SKIN-Z Bar End and SKIN-X Bar End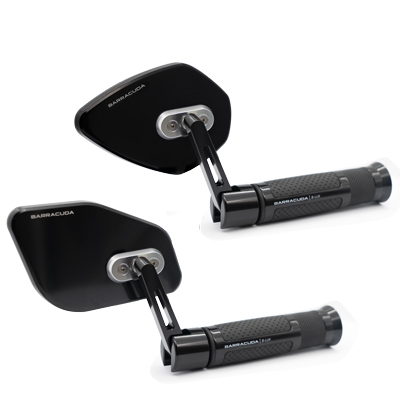 Retrovisori SKIN-Z Bar End e SKIN-X Bar End
Gli SKIN-Z e SKIN-X Bar End , sono retrovisori UNIVERSALI, OMOLOGATI, realizzati in ALLUMINIO dal design HI-TECH firmato BARRACUDA.
Dispongono di un'attacco UNIVERSALE con la possibilità rotazione di 180°, compatibili con i manubri RACING BARRACUDA (diam. int. 17mm) ma grazie a specifici adattatori (opzionali ) , si possono montare su tutte le più diffuse e vendute moto di mercato. Fanno parte del progetto B-LUX ( BARRACUDA Luxury Project ).
Designed by BARRACUDA
________________
SKIN-Z Bar End and SKIN-X Bar End Mirrors
The SKIN-Z and SKIN-X Bar End, are UNIVERSAL mirrors, HOMOLOGATED, made of ALUMINUM with HI-TECH design by BARRACUDA.

They have a UNIVERSAL connection with the possibility of 180 ° rotation, compatible with the RACING BARRACUDA handlebars (inside diameter 17mm) but thanks to specific adapters (optional), they can be mounted on all the most and sold motorcycles on the market. They are part of the B-LUX project (BARRACUDA Luxury Project).
Designed by BARRACUDA